Page: 1
Rose Wines
Negroamaro rosato Produttori Vini Manduria 2019
More Info...
Cerasuolo Vermiglio Orlandi Contucci Ponno 2016
More Info...
Rosato Salento igt aka Produttori Vini Manduria 2020 Alcohol content 13% of vol. 100% Primitivo grapes. Pale coral pink colour, crystal clear. Very inviting. Aging of a few months in steel vats and bottle. The scent is fragrant with wild strawberry, raspberry and arbutus. Hints of red and vegetable flowers. Good intensity. The taste is quite soft, fresh, warm, long taste-olfactory persistence. Finish with fruity and tasty hints. Excellent to match with pizza, grilled salmon, peppered mussels.
More Info...
alto adige doc lagrein kretzer rosé wine st pauls 2020
More Info...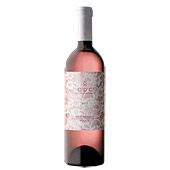 Baglio del Cristo di Campobello rosé wine 2019. Alcohol content 12.5% vol. The wine is obtained from a short maceration (about 3 hours) of pure black grapes, after which it undergoes an aging in steel on fine lees, with weekly mixing for 4 months and in bottle for another 2 months. Beautiful pale pink color, with bright light purple reflections. The scents are intense, well recognizable and fine; you can perceive fragrant notes of rosehip, strawberries, raspberries, plums that are intertwined with mineral sensations and arom More Info...
Scalabrone rosé wine Guado al Tasso 2014. Grape varieties: 40% Cabernet Sauvignon, 30% Merlot, 30% Syrah. A brilliant AND light pink colour, the wine shows rich AND intense aromas OF fruit (cherries AND raspberries) an flowers. The palate IS fresh AND balanced WITH a long AND fruity aftertaste. Excellent mouthfeel. The wine persistence, although fresh AND tasty, IS NOT very long but it IS really enjoyable.
Match: farro salad WITH buffalo mozzarrella, pizza WITH fresh seafood, oven baked gilthead seabream WITH potatoes.
More Info...